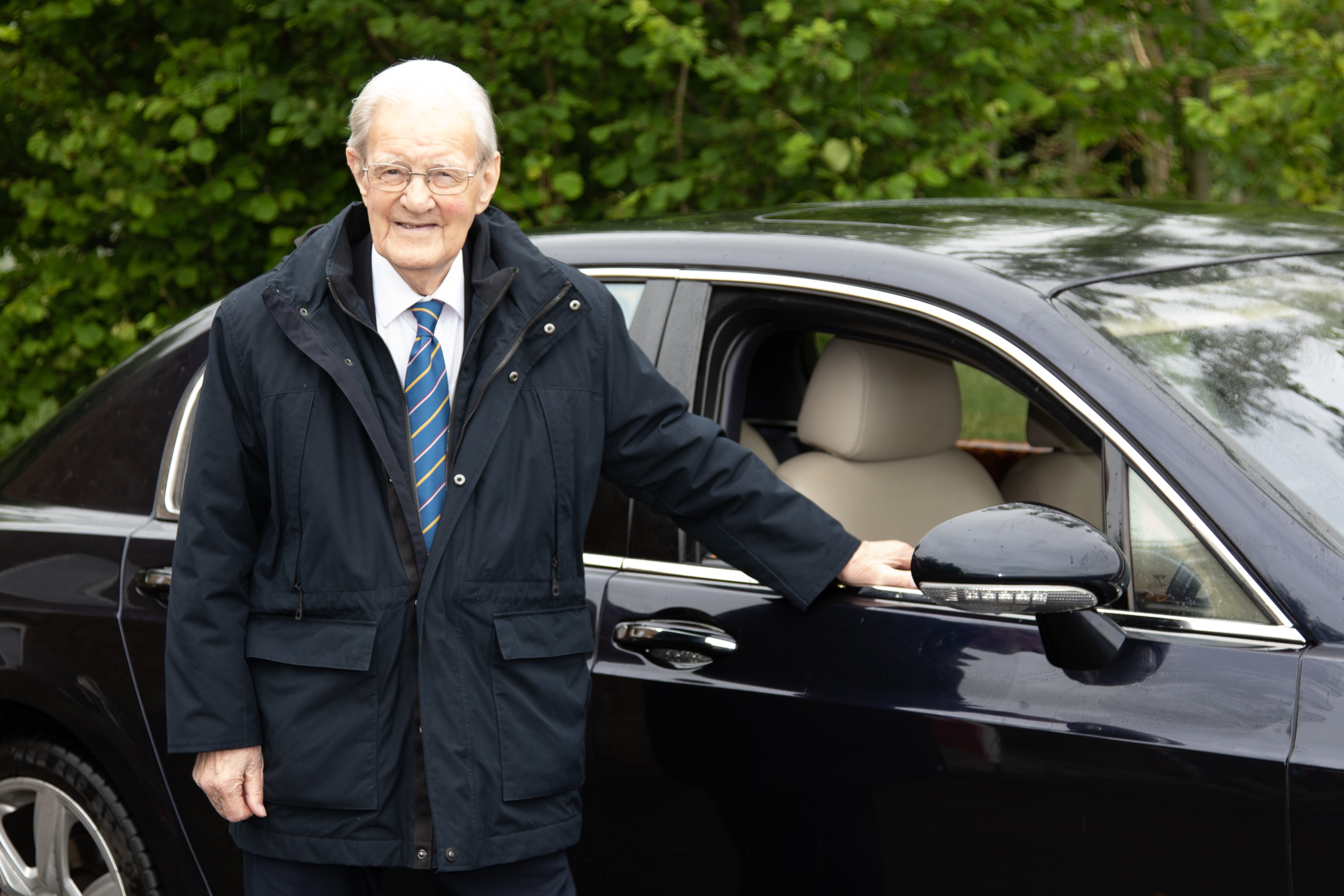 A driving school which normally caters for under 17s has welcomed its oldest pupil to date – 92 year old Terry Collier
Born in 1929, Terry, who lives in Devizes, gave up driving two years ago due to health reasons. He originally passed his test in 1947 and had 72 years of driving with not a single accident.
Seeing how much he missed driving, daughter Julia Connolly decided to book a driving lesson for her father on private property. A quick online search found Young Driver, which – although it primarily offers driving lessons to 10-17 year olds at 70 venues across the UK – has no upper age limit and is open to anyone who wishes to have a go behind the wheel in a safe environment and with a fully qualified instructor.
Terry got behind the wheel of a luxurious Bentley Flying Spur as a surprise Father's Day treat on 18th June 2022 at the Young Driver venue in Wroughton.
Originally hailing from Watford, Terry and his wife moved to Devizes in 1965. Terry was a residential social worker and is a grandfather to six and a great grandfather to seven.
Terry commented: "It was fantastic being behind the wheel again, I really have missed it. It all came straight back to me. I'd never driven a Bentley before, so that was a great experience. I learnt in a Morris Minor and I've driven lots of different makes and models since I passed my test age 18 – including caravans and campervans. It was great to see lots of young people learning to drive too. My advice to anyone newly behind the wheel would be to always take yours and other people's safety seriously. Be careful and considerate on the road, it's not worth the risk."
Sue Waterfield, head of marketing for Young Driver, said: "We were absolutely delighted to welcome Terry along to our Wroughton venue. We're so pleased he enjoyed having the opportunity to be behind the wheel again. Although our pupils are typically under 17, we do have lots of people come along who may not be able to drive on the roads for one reason or another. They may be nervous, or they may have a disability which means they're unsure if they'll be able to pass their test. We've even had blind pupils. Because we operate on private land and with highly trained instructors in dual controlled cars, it's a perfectly safe place to give it a go. Our pupils just aren't usually as experienced as Terry with 72 years of safe driving under his belt!"
Young Driver was established in 2009 with the aim of revolutionising the learning to drive journey, helping to reduce the high accident rate for newly qualified drivers by extending the learning period. Research shows that early driver tuition can halve the likelihood of an accident in those dangerous first six months after passing the test.