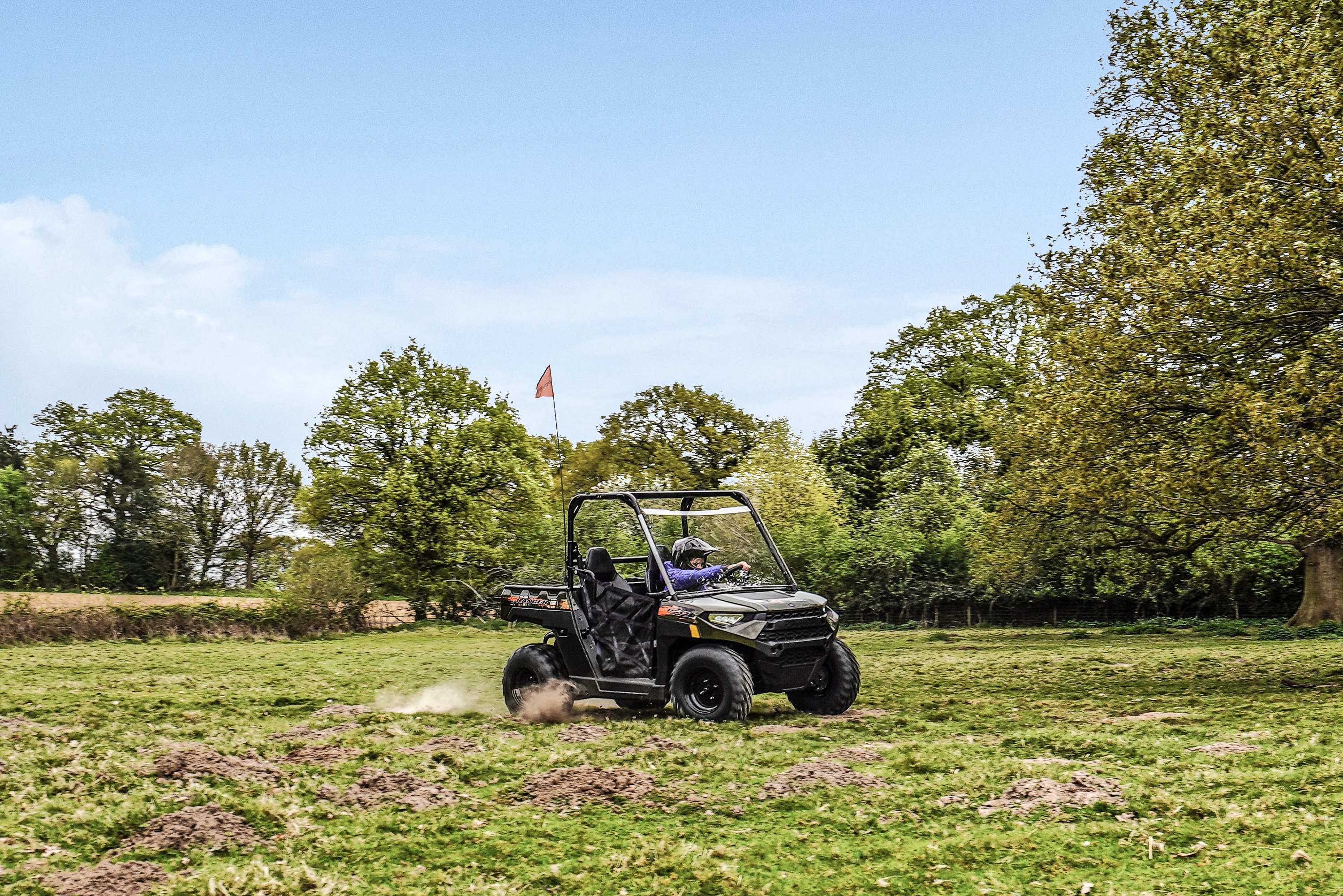 Malvern, Peterborough and Warwickshire see launch of exciting new off-road adventure for 10-14 year olds
Pre-17 driving experts Young Driver will launch the Polaris Ranger Youth driving adventure at Stoneleigh Park on 16th October
They might not be old enough to drive on the roads yet – but 10 - 14 year olds will soon be able to take advantage of an exhilarating new off-road adventure coming to Malvern, Peterborough and Warwickshire specifically designed for young teens.
The UK's largest pre-17 driving school, Young Driver, will launch independent driving experiences in a new fleet of the rugged Polaris Youth Ranger later this month, with one of the first venues to launch being Stoneleigh Park.
With the Young Driver scheme more typically teaching youngsters safe driving skills in a dual controlled hatchback with a fully qualified instructor sat beside them, the Polaris experience will enable young drivers to try their hand at independent driving in a safe and secure off-road environment.
The agile Polaris Youth Ranger is a real All Terrain Vehicle, but in a smaller size - originally created as tough working vehicles on ranches and farms. It offers a great way for kids to hone their independent driving skills, combining key safety, tech and performance features. The Rangers can whizz over undulating fields and bumps with ease, letting young drivers practice their steering, braking and reversing in a controlled environment and overseen by specialist staff. The Youth Ride Control allows instructors to set an appropriate speed limit for the driver's age, experience and the terrain. All drivers will wear a helmet whilst behind the wheel and safety is the top priority.
The 30-minute driving experience will see youngsters given some tuition on how to use the vehicle before trying it for themselves on a specially designed course. A parent can accompany the driver if desired – and they dare! Designed to tackle all environments with its 22 inch tyres, the vehicles will be taken on an all-terrain driving adventure.
Sue Waterfield, head of marketing for Young Driver, said: "We're delighted to announce that we have added the exciting Polaris Youth Ranger to our range of driving experiences for under 17s. Our aim is always to give young people a varied and safe introduction to driving, and we know that giving them a longer time to learn the basics behind the wheel in an unpressured environment helps to make them a safer driver when they go on to pass their test. The Polaris Youth Ranger gives them the opportunity to try being independently in control of a vehicle as well as experiencing what driving on different terrains feels like – and they're definitely going to have a lot of fun!"
The Polaris Youth Rangers will be available to drive at the East of England Showground on 23rd October and 27th November, Stoneleigh Park on 16th and 25th October and 10th December and Three Counties Showground on 12th November. To find out more or to book a lesson go to www.youngdriver.com
Young Driver has delivered over 1.1 million driving lessons to young people since it launched in 2009, with the aim of reducing the shockingly high accident rate for newly qualified drivers. Operating at more than 70 venues, youngsters aged from 10-17 can drive a dual controlled Vauxhall Corsa or similar car, a Bentley Flying Spur, a choice of classic cars and a fire engine. Younger children can even get their first driving experience in the sports car inspired two-seater Firefly – a 'real' electric car designed for 4-10s.
ENDS
For further information please contact: Shona Nutter on [email protected] or 07714 953919.
Notes to editors:
Young Driver was established in 2009 with the aim of helping to teach youngsters to drive over a longer period, therefore encouraging a safer generation of new drivers at 17. The scheme is the only driving school in the UK to offer carbon negative driving lessons.
Anyone aged 10 and over and above 1.42 metres tall can get behind the wheel of a dual controlled Vauxhall Corsa or similar car with a fully qualified ADI driving instructor. Lessons take place on private property which has been developed into a realistic road system complete with road signs, junctions and car parks. A free Drive Diary helps each pupil to monitor progress. More than 1.1 million lessons have now been delivered and there are more than 70 venues to choose from across the UK.
All Drive Diaries and leaflets are printed on carbon capture paper and Young Driver's office only uses Woodland Trust FSC paper. The Drive Diary is also available on the Young Driver app.
Young Driver Motor Cars Ltd, a subsidiary of Young Driver, first launched Firefly, the world's first electric cars developed specially for 4-10 year olds, in September 2016. The Firefly Sport launched in 2022.
Driving experiences for 10-17s (and adults) are also available in three classic cars - a Vauxhall VX490, Morris Minor or Austin 7, along with a genuine ex-service fire engine and a luxurious Bentley Flying Spur. The all-terrain Polaris Youth Ranger is now available for off-roading experiences for 10-14 year olds.
For more information log on to www.youngdriver.com or call 0333 577 9010