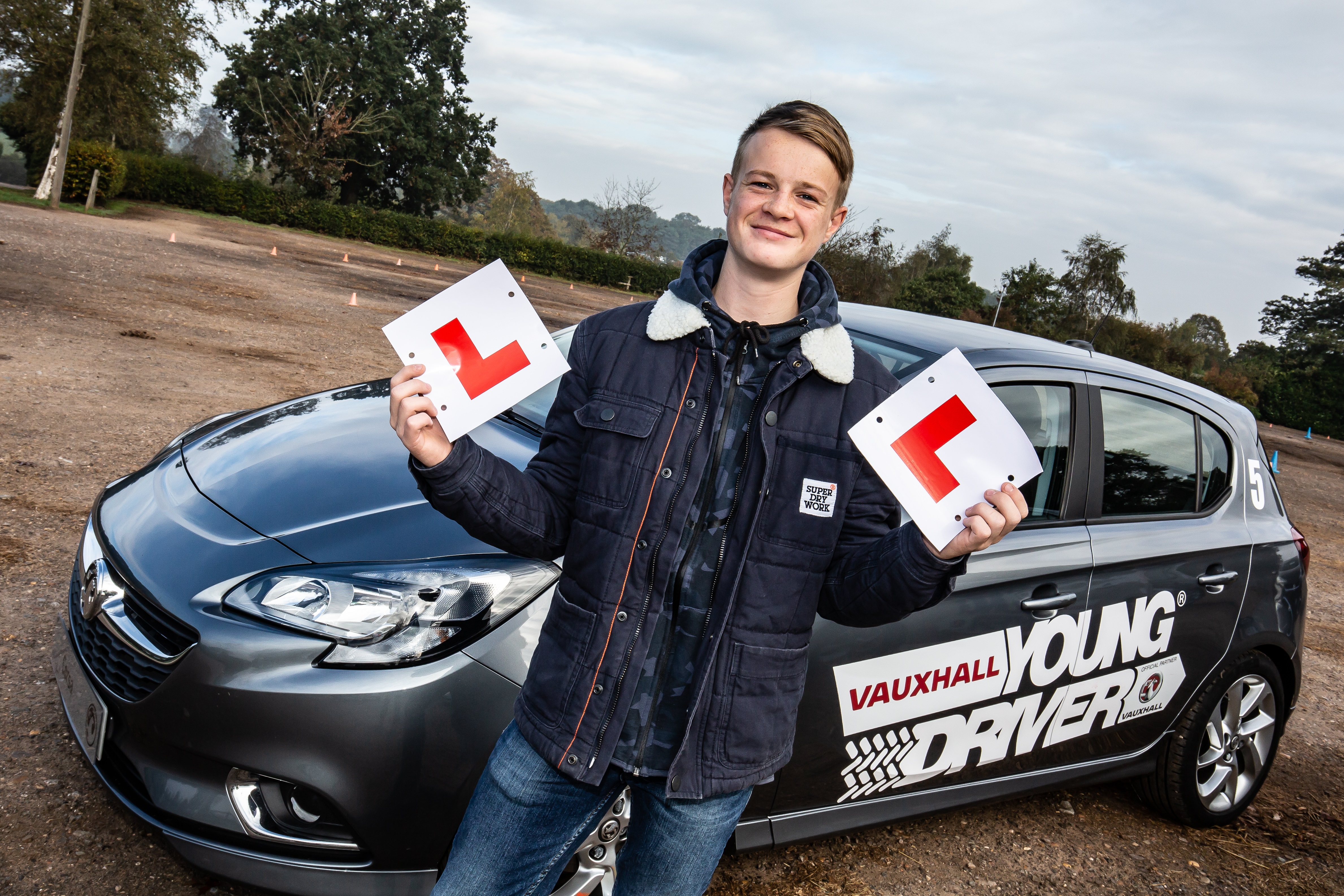 Driving competition launches for children as young as 10 - as internet searches for under 17 driving experiences surge
Young Driver Challenge 2022 is open to 10-16 year olds in the UK

Final will take place in September, hosted by TV presenter Quentin Willson

Google searches for kids driving experiences increase by 400% from pre-pandemic
A driving competition for drivers aged 10-16 launched this week – and it's all about safety rather than speed.
The Young Driver Challenge 2022 encourages youngsters from just 10 years old to compete to be crowned Britain's Best Young Driver – and anyone old enough to have an official driving license isn't allowed.
Pre-17 driving is becoming increasingly popular as an aid to helping young people become safer drivers. Extending the period over which youngsters learn allows them more time to get to grips with the basics of driving and is proven to reduce accident rates for newly qualified drivers. Demonstrating its popularity, Google searches for 'kids driving experiences' have risen by 400% since before the pandemic two years ago, while 'under 17 driving experiences near me' has increased by 250%*.
Run by Young Driver, the UK's largest pre-17 driving school, entries to the eighth annual Young Driver Challenge are now open at any of the scheme's 70 UK venues. Anyone having a Young Driver lesson can ask to be marked and entered during a standard lesson. The 40 highest scoring entrants split between two age categories - 10-13 and 14-16 - will then take part in a final in September at The British Motor Museum. TV presenter and motoring expert Quentin Willson will host the event.
At a Young Driver lesson, pupils learn to drive in the same way as they would on the road at 17. Lessons take place on private property in dual controlled cars with fully qualified instructors. Youngsters learn how to change gear, steer, brake, handle junctions and roundabouts and even perform complex manoeuvres.
To qualify for the final, learners will have to score highly on various aspects of driving including confident moving off and stopping, clutch control, use of mirrors, smooth gear changes, safely managing junctions, road positioning and parking.
As well as the accolade of being named one of the best young drivers in the country, prizes up for grab include £200 cash and Young Driver lessons worth £750, along with family restaurant vouchers.
Sue Waterfield is head of marketing for Young Driver, which has delivered more than one million lessons since it launched. She said: "We're delighted to be hosting the Young Driver Challenge again, it's the highlight of our year! People would be amazed at how talented many of our drivers are. They really do soak up information and skills like sponges, and in a safe environment they're able to give it their full attention without any pressure. Something needs to be done to tackle the shockingly high accident rate for newly qualified drivers and research proves pre-17 driver education, done right, helps them become a safer motorist. It's also a lot of fun! The Challenge gives us the chance to really celebrate the achievements of our drivers, and we can't wait to see the skills of our 40 finalists in September."
Entries for the Challenge are now open until 26th June 2022. For more information go to www.youngdriver.com or download the Young Driver App.
ENDS
*https://trends.google.com/trends/explore?date=2020-02-29%202022-03-04&geo=GB&q=under%2017%20driving%20experience
For further media information please contact: Shona Nutter on [email protected] or 07714 953919.
Notes to editors:
Young Driver was established in 2009 with the aim of helping to teach youngsters to drive over a longer period, therefore encouraging a safer generation of new drivers at 17. The scheme is sponsored by Vauxhall and is the only driving school in the UK to offer carbon negative driving lessons.
Anyone aged 10 and over and above 1.42 metres tall can get behind the wheel of a brand new dual controlled Vauxhall Corsa SE Premium car with a fully qualified ADI driving instructor. Lessons take place on private property which has been developed into a realistic road system complete with road signs, junctions and car parks. A Drive Diary helps each pupil to monitor progress. More than one million lessons have now been delivered and there are more than 70 venues to choose from across the UK.
All Drive Diaries and leaflets are printed on carbon capture paper and Young Driver's office only uses Woodland Trust FSC paper. The Drive Diary is also available on the Young Driver app.
Young Driver Motor Cars Ltd, a subsidiary of Young Driver, launched Firefly, the world's first electric cars developed specially for 4-10 year olds, in September 2016. These cars are available to drive throughout the year at selected venues.
Driving experiences for 10-17s (and adults) are also available in three classic cars - a Vauxhall VX490, Morris Minor or Austin 7, along with a genuine ex-service fire engine.
For more information log on to www.youngdriver.com or call 0333 577 9010