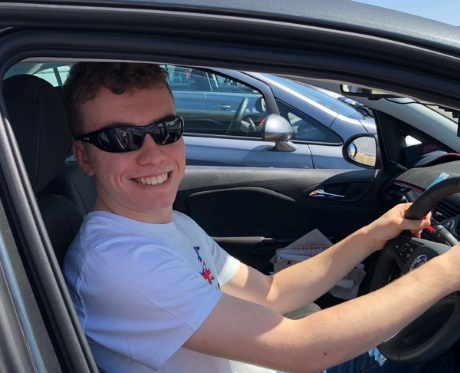 At Young Driver we pride ourselves on being a fully-inclusive driving school. The specialist skills and facilities we have, allow us to be able to offer driving lessons and experiences to guests with additional needs.
All our driving sessions take place on private property, making lessons with us ideal for anyone who, for whatever reason, cannot or doesn't want to drive on the public roads
Our fleet of modern cars are all dual-controlled and include fully-automatic and specially adapted cars
Our instructors are highly skilled and have specialist training to teach both disabled and non-disabled drivers
Understanding your needs
We totally understand the value of being able to offer lessons accessible to all, but who better to tell you more about our inclusive driving lessons than some of the many happy clients who have been on driving lessons with us?
Luke's story
Luke had an amazing time driving with instructor Brian at our Braehead centre and his Gran told us: "To put you in the picture, Luke has cerebral palsy. He can't walk without a frame and his speech is affected. When we booked, we weren't sure Luke would manage it. Thanks to Brian, we have one very happy boy. He loves it. And this was due to Brian taking the time to explain things and working with Luke to enable him to drive a car."

Thanks go to Luke and his Gran, who asked us to use this wonderful picture to help show how Young Driver supports drivers with disabilities.
Eileen and her daughter's experience
Mum Eileen, who booked a lesson for her sight-impaired daughter Ms C., said: "Ms C was thrilled when we told her that Young Driver offers a driving experience for people with disabilities and we had booked her in. She is severely sight impaired, who would never be able to drive on a public road. This experience made her day. She was beaming and was talking about it all weekend. One item off the bucket list. This driving lesson was such an uplifting experience that we've booked her in for another one to give her something to look forward to."
Eileen Teo
George's driving journey
George, who had a diagnosis of severe autism, first gave driving a go at the Southampton Young Driver venue in a fully-automatic vehicle when he was 19. As George's Mum Jane commented: "No-one knew how George would take to driving and the scheme provided a safe way to test the waters."
With the teen's confidence growing as the lessons progressed, George's goal became to get his driving licence. And we're pleased to say George passed first time, with zero minors!
We'll leave the last word to George: "Learning with Young Driver really helped my confidence and now I have lots of independence because I passed my test!"
Book fully-inclusive driving lessons with Young Driver
So if you're looking for specialist driving lessons and experiences for anyone with any sort of additional needs, just get in touch with us here at Young Driver. With over 70 venues around the UK, there will be a driving centre near you that's ready to welcome you and give you your first taste of driving.
Please contact 0333 577 9010 or [email protected]youngdriver.com if you need further information.